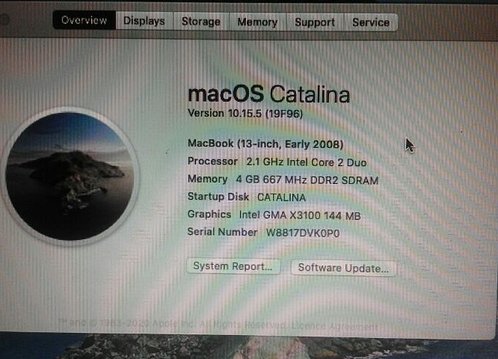 macOS Catalina 10.15.5 On Unsupported Macs (Especially MacBook 4,1)
Hurray !!!
Osafo has done it again. macOS Catalina 10.15.5 (Osafo Edition) running on MacBook 4,1 and all unsupported macs dating as far back as 2006 - 2008 (list below). The hallmark of my macOS research is finally here.
Osafo Catalina - (a 9.64gb already prepared bootable Catalina installer).
I have prepared everything for you. Just download the 9.64gb bootable installer (Osafo Catalina), write unto a 16GB usb or external drive and install. The research continues unabated for unsupported macbooks.
SUPPORTED MACS
iMacs
iMac7,1 (with Penryn CPU)

iMac8,1

iMac9,1

iMac10,1

iMac10,2

iMac11,1

iMac11,2

iMac11,3

iMac12,1

iMac12,2
MacBooks
MacBook4,1

MacBook5,1

MacBook5,2

MacBook6,1

MacBook7,1
MacBook Airs
MacBookAir2,1

MacBookAir3,1

MacBookAir3,2

MacBookAir4,1

MacBookAir4,2
MacBook Pros
MacBookPro4,1

MacBookPro5,1

MacBookPro5,2

MacBookPro5,3

MacBookPro5,4

MacBookPro5,5

MacBookPro6,1

MacBookPro6,2

MacBookPro7,1

MacBookPro8,1

MacBookPro8,2

MacBookPro8,3
Mac minis
Macmini3,1

Macmini4,1

Macmini5,1

Macmini5,2

Macmini5,3
Mac Pros
Xserves
Donations are welcomed to support the on - going research and all comments and bugs can be emailed to: emmanuelnathanosafo@gmail.com, 00233550946065, thank you.